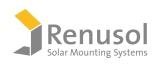 Products
Renusol
Schletter
GSE
---
Renusol is one of the largest companies offering solar mounting solutions. Based in Germany, Renusol offer unique solar panel mounting solutions to suit every application.

Renusol is part of the Gibraltar industry group and is a subsidiary of RBI Solar, the leading EPC provider for ground mounting in the US. Since 1997 Renusol is developing and producing innovative and cost-efficient solar racking solutions for the photovoltaic industry.
MS+ Racking solar on metal sheet roofs
The MS+ range is the carefree solution for solar mounting on trapezoidal and corrugated metal sheet of aluminum and steel. Choose between the MS+ for landscape or choose the MS+P range for portrait panel orientation.
Rail free east/west system for flat roofs with the FS10
The mounting solution FS10 is ideal for back to back (East/West) solar panel arrays on flat roofs. Using posts as mounting elements and setting rails aside gives you great advantages in planning and installation of the FS10 system. Going without rails assures free water drainage and compensates potential interferences caused by thermal expansion.
PV Mounting on any pitched roof with the VS+ solution
The universal solar panel mounting system with its wide system portfolio covers any application on various roof coverings and substructures. The different components can be combined as needed and fastened to the roof substructure.
CS+ - Ballasted racking system for flat roofs without roof penetration
The proven aerodynamic system made of long-living HDPE plastic offers an attractive solution for south-oriented solar installations on regular flat roofs, small flat roofs, such as garages or bungalows, and on redeveloped surfaces on the ground.
Triangular racking frame for pitched, flat roofs & ground mounting
The triangular mounting frame is available in various inclinations.Thanks to the large number of compatible roof connection elements and the option of ballasting TriSole, is suitable for a variety of different types of roofs and roof coverings.
You can read more about Renusol on their website http://www.renusol.com/en.
Segen has a varied range of Renusol solar panel mounting solutions to suit every installation.
Listed below are all the products supplied by Segen for , please select any of the listed part codes in the first column to view full details of the product.
| | | | |
| --- | --- | --- | --- |
| REN-400005 | PV Mounting | Flat Roof Tray | Aluminium U-Profile 1035 mm ConSole 4.2, 5.2,6.2, CS+, single |
| REN-400047 | PV Mounting | Fixings | Renusol Self Drilling Screw 6.0 x 35 |
| REN-400165 | PV Mounting | Rail Connector | VarioSole Rail connector for rail 60 x 37.4 mm |
| REN-400252 | PV Mounting | Roof Anchor- Seam Clamp | Renusol Seam Clamp R-465 |
| REN-400254 | PV Mounting | Roof Anchor- Seam Clamp | Renusol Seam Clamp E-Mini |
| REN-400255 | PV Mounting | Roof Anchor- Seam Clamp | Renusol Seam Clamp Z-Mini |
| REN-400259 | PV Mounting | Roof Anchor- Seam Clamp | Renusol Seam Clamp S-Mini |
| REN-400270 | PV Mounting | Fixings | Renusol Micro Inverter mounting bracket set |
| REN-400280 | PV Mounting | Fixings | Self Drilling Screw steel 0.40 - 1.25mm |
| REN-400281 | PV Mounting | Roof Anchor- Trapezoidal | Self drilling screw for Al 0,50-1,50 mm or steel 0,50-1,25 mm |
| REN-400299 | PV Mounting | Mounting Rail | VarioSole Mounting rail 60 x 37.4 x 4200mm |
| REN-400315 | PV Mounting | Roof Anchor- Tile & Slate | Renusol Sealing Collar for Slate Black |
| REN-400502 | PV Mounting | Mounting Rail | VarioSole+ Mounting rail 50 x 37 x 3200mm |
| REN-400502-B | PV Mounting | Mounting Rail | VarioSole+ Mounting rail 50 x 37 x 3200mm Black |
| REN-400505 | PV Mounting | Mounting Rail | VarioSole+ mounting rail 50 x 37 x 4200mm |
| REN-400505-B | PV Mounting | Mounting Rail | VarioSole+ mounting rail 50 X 37 X 4200mm (Black) |
| REN-420006 | PV Mounting | Fixings | Micro Inverter Mounting Bracket for Console |
| REN-420012 | PV Mounting | Roof Anchor- Hanger Bolt | VarioSole Bracket M12 |
| REN-420014 | PV Mounting | Roof Anchor- Hanger Bolt | VarioSole Bracket M10 |
| REN-420081 | PV Mounting | Module Clip | End Clamp+ 30 - 50mm Silver |
| REN-420081-B | PV Mounting | Module Clip | End Clamp+ 30 - 50mm Black |
| REN-420082 | PV Mounting | Module Clip | Middle Clamp+ 31 - 51mm Silver |
| REN-420082-B | PV Mounting | Module Clip | Middle Clamp+ 31 - 51mm Black |
| REN-420083 | PV Mounting | Cruciform | Renusol Cross rail connector |
| REN-420083-B | PV Mounting | Cruciform | Renusol Cross rail connector Black |
| REN-420097 | PV Mounting | Roof Anchor- Tile & Slate | Renusol Stainless Steel for Concrete |
| REN-420100 | PV Mounting | Roof Anchor- Tile & Slate | Renusol Stainless Steel Tegola Portoghese |
| REN-420101 | PV Mounting | Roof Anchor- Tile & Slate | Renusol Stainless Steel Tegola Marsigliese |
| REN-420130 | PV Mounting | Roof Anchor- Hanger Bolt | VarioSole Bracket M12 offset connection |
| REN-420150 | PV Mounting | Roof Anchor- Tile & Slate | VarioSole Stainless Steel roof hook for Pantiles No Wood Screws |
| REN-420151 | PV Mounting | Roof Anchor- Tile & Slate | Variosole Aluminium roof hook for Pantiles No Wood Screws |
| REN-420153 | PV Mounting | Roof Anchor- Tile & Slate | VarioSole Stainless Steel roof hook for plain tiles Standard No Wood Screws |
| REN-420154 | PV Mounting | Roof Anchor- Tile & Slate | VarioSole Stainless Steel for Plain Tiles - Vertical rails (no wood screw) |
| REN-420155 | PV Mounting | Roof Anchor- Tile & Slate | VarioSole Stainless Steel roof hook for slate tiles No Wood Screws |
| REN-420159 | PV Mounting | Roof Anchor- Tile & Slate | Renusol Stainless Steel Tegola Romana (without Wood Screws) |
| REN-420160 | PV Mounting | Roof Anchor- Tile & Slate | VarioSole Stainless Steel roof hook for vertical rails No Wood Screws |
| REN-420401 | PV Mounting | Roof Anchor - Corrugated | Renusol MetaSole Corrugated Roof Adaptor |
| REN-420402 | PV Mounting | Roof Anchor- Trapezoidal | MetaSole+ Sheet thickness: steel 0.50-1.50 mm, aluminium 0.5-2.00mm |
| REN-420403 | PV Mounting | Roof Anchor- Trapezoidal | MetaSole+ Sheet Thickness: steel 0.75-1.0 mm |
| REN-460001 | PV Mounting | Flat Roof Tray | Elongation rails for ConSole 4.1, 4.2, 5.2, 6.2, CS+ ( x2 ) |
| REN-500303 | PV Mounting | Flat Roof | Renusol FS10 Concrete Foot Channel (Darker Colour) |
| REN-500310 | PV Mounting | Flat Roof | Renusol FS10 Alu Roof Protection Layer |
| REN-520001 | PV Mounting | Flat Roof | Renusol FS10 Ridge Set |
| REN-520002 | PV Mounting | Flat Roof | Renusol FS10 Eaves Set |
| REN-520075-K | PV Mounting | Flat Roof Tray | ConSole+ (incl. Mounting material and U-Profile) |
| REN-520076 | PV Mounting | Flat Roof Tray | ConSole Streamliner+ |
| REN-860006 | PV Mounting | Roof Anchor- Hanger Bolt | VarioSole Hanger bolt M10 x 200 Wood Substructure |
| REN-860007 | PV Mounting | Roof Anchor- Hanger Bolt | VarioSole Hanger bolt M12 x 250 Wood Substructure |
| REN-860017 | PV Mounting | Roof Anchor- Hanger Bolt | VarioSole Hanger bolt M12 x 300 Wood Substructure |
| REN-900007 | PV Mounting | Fixings | Hammerhead bolt M8x25 |
| REN-900013 | PV Mounting | Wood Screws | Wood screw slated tiles countersunk 6 x 80 |
| REN-900015 | PV Mounting | Fixings | Hexag. Bolt M6x20 & Hex. Flange nut M6, /24 |
| REN-900016 | PV Mounting | Fixings | Hexag. Flange bolt with serration M8x14 |
| REN-900025 | PV Mounting | Fixings | Hexag. bolt M8x35 with serration |
| REN-900036 | PV Mounting | Fixings | Hexagon nut ISO 4032 - M8 A2-70 |
| REN-900050 | PV Mounting | Wood Screws | Wood screw mushroom head 5 x 30 |
| REN-900054 | PV Mounting | Flat Roof | Renusol FS10 M8 Washer/100 |
| REN-900057 | PV Mounting | Flat Roof | Renusol FS10 M8 Hex Nut - ( Bag of 100 ) |
| REN-900129 | PV Mounting | Wood Screws | Dish-shaped head wood screw with cutting edge 8 x 100 |
| REN-900181 | PV Mounting | Roof Anchor- Hanger Bolt | Solar Fastener for steel substructure 80mm/50mm |
| REN-900182 | PV Mounting | Roof Anchor- Hanger Bolt | Solar Fastener for steel substructure 100mm/50mm |
| REN-900183 | PV Mounting | Roof Anchor- Hanger Bolt | Solar Fastener for steel substructure 125mm/50mm |
| REN-900184 | PV Mounting | Roof Anchor- Hanger Bolt | Solar Fastener for steel substructure 150mm/50mm |
| REN-900185 | PV Mounting | Roof Anchor- Hanger Bolt | Solar Fastener for steel substructure 160mm/50mm |
| REN-900186 | PV Mounting | Roof Anchor- Hanger Bolt | Solar Fastener for steel substructure 200mm/50mm |
| REN-900189 | PV Mounting | Roof Anchor- Hanger Bolt | Solar Fastener for wood substructure 130mm/50mm |
| REN-900190 | PV Mounting | Roof Anchor- Hanger Bolt | Solar Fastener for wood substructure 150mm/50mm |
| REN-900193 | PV Mounting | Storm Washer | EPDM gasket 8.4mm/25mm |
| REN-900205 | PV Mounting | Storm Washer | Storm washer for trapezoidal sheet W15mm/20mm |
| REN-900220 | PV Mounting | Storm Washer | Storm washer for corrugated sheet R24mm/37mm |
| REN-920002 | PV Mounting | Roof Anchor- Hanger Bolt | VarioSole Hanger bolt M12 x 250 offset connection |
| REN-920003 | PV Mounting | Roof Anchor- Tile & Slate | VarioSole Aluminium roof hook for vertical rails No Wood Screws |
| REN-920005 | PV Mounting | Roof Anchor- Tile & Slate | VarioSole Stainless Steel roof hook for slate tiles With Wood Screws |
| REN-920008 | PV Mounting | Roof Anchor- Hanger Bolt | VarioSole Hanger bolt M10 x 200 offset connection |
| REN-920043-B | PV Mounting | Rail End Caps | VarioSole End Cap RIGHT/LEFT 50mm black (1 pair ) |
| REN-920044 | PV Mounting | Rail End Caps | VarioSole End Cap RIGHT/LEFT 50mm grey (1 pair ) |
| REN-920106 | PV Mounting | Flat Roof Tray | ConSole Clip Set |
| REN-920117 | PV Mounting | Roof Anchor- Tile & Slate | VarioSole Stainless Steel roof hook for slate - Vertical rails |
| REN-920136 | PV Mounting | Roof Anchor- Hanger Bolt | VarioSole Hanger bolt M12 x 350 Wood Substructure |
| REN-999900 | Tools | Mounting Tools | Attachment SFS DS-K 265 for cordless screwdriver |
| REN-SAMPLE | PV Mounting | Sample Cases | Renusol Roof Anchor Sample Kit |
| SLATE-REN-GEN | PV Mounting | Roof Anchor- Tile & Slate | Renusol slate solution with Genius flashing |
| SLATE-REN-GEN-V | PV Mounting | Roof Anchor- Tile & Slate | Renusol vertical slate solution with Genius flashing |
| REN-420180 | PV Mounting | Roof Anchor- Tile & Slate | Roof hook UK Pantile (without wood screw) |
| REN-400511 | PV Mounting | Mounting Rail | VarioSole+ Mounting rail 41 x 35 x 3200 mm |
| REN-400511-B | PV Mounting | Mounting Rail | VarioSole+ Mounting rail 41 x 35 x 3200 mm BLACK |
| REN-400512 | PV Mounting | Mounting Rail | VarioSole+ Mounting rail 41 x 35 x 4200 mm |
| REN-400512-B | PV Mounting | Mounting Rail | VarioSole+ Mounting rail 41 x 35 x 4200 mm BLACK |
| REN-420080 | PV Mounting | Module Clip | RS1 Universal End and Mid Clamp 30 - 50mm Silver ONE FOR ALL |
| REN-420080-B | PV Mounting | Module Clip | RS1 Universal End and Mid Clamp 30 - 50mm Black ONE FOR ALL |
| REN-420181 | PV Mounting | Roof Anchor- Tile & Slate | Roof hook UK Plain tiles/slates (without wood screw) |
| REN-420182 | PV Mounting | Roof Anchor- Tile & Slate | Roof hook UK Flexible (without wood screw) |
| REN-420420 | PV Mounting | Roof Anchor- Trapezoidal | MetaSole+ PORTRAIT rail 350mm long |
| REN-400531 | PV Mounting | Rail Connector | VarioSole+ Rail connector for rail 41 x 35 mm |
| REN-400532 | PV Mounting | Rail Connector | VarioSole+ Rail connector for rail 50 x 37 mm |
| REN-420131 | PV Mounting | Roof Anchor- Hanger Bolt | VarioSole Bracket M10 offset connection |
| REN-400350 | PV Mounting | Washers | 2-mm spacer plate |
| REN-400351 | PV Mounting | Washers | 5-mm spacer plate |
| REN-420183 | PV Mounting | Roof Anchor- Tile & Slate | Roof hook UK Flexible 90° (without wood screw) |
| REN-500350 | PV Mounting | Flat Roof | Renusol FS10 Ballast Adapter |
| REN-900246 | PV Mounting | Rail End Caps | VarioSole + End Cap 41X35 rail Single - Grey |
| REN-420352 | PV Mounting | Roof Anchor- Tile & Slate | UK M8 Bracket 90° |
| REN-500410 | PV Mounting | Flat Roof | RPM 110 x 95 x 20mm standard |
| REN-400552 | PV Mounting | Flat Roof | TriSole+ Vertical Support 10 degrees |
| REN-420550 | PV Mounting | Flat Roof | TriSole+ V-frame Assembled |
| REN-400555 | PV Mounting | Flat Roof | TriSole+ Vertical Support 25 degrees |
| REN-400556 | PV Mounting | Flat Roof | TriSole+ Vertical Support 30 degrees |
| REN-400553 | PV Mounting | Flat Roof | TriSole+ Vertical Support 15 degrees |
| REN-400554 | PV Mounting | Flat Roof | TriSole+ Vertical Support 20 degrees |
| REN-400557 | PV Mounting | Flat Roof | TriSole+ Vertical Support 35 degrees |
| REN-410552 | PV Mounting | Flat Roof | TriSole + Triangle 10° assembled |
| REN-410553 | PV Mounting | Flat Roof | TriSole+ Triangle 15° assembled |
| REN-410554 | PV Mounting | Flat Roof | TriSole+ Triangle 20° assembled |
| REN-410555 | PV Mounting | Flat Roof | TriSole + Triangle 25° assembled |
| REN-410557 | PV Mounting | Flat Roof | TriSole + Triangle 35° assembled |
| REN-900229 | PV Mounting | Flat Roof | Self Drilling Screw 4.8 x 19 A2 |
| REN-420600 | PV Mounting | Flat Roof | TriSole + L-Profile cross striving profile (SET) |
| REN-900244 | PV Mounting | Rail End Caps | VarioSole End Cap Grey 50x37 ( Single ) |
| REN-900305-21 | PV Mounting | Wood Screws | Wood screw pan head 6 x 80 (Bag of 21) (900305-21) |
| REN-420421 | PV Mounting | Roof Anchor- Trapezoidal | MetaSole+ PORTRAIT rail 400mm long |
| REN-400284 | PV Mounting | Roof Anchor- Seam Clamp | Renusol Seam Clamp K-Grip Mini |
| REN-400288 | PV Mounting | Fixings | GXM 10 Mini Insert ( for K-Grip Mini ) |
| REN-400285 | PV Mounting | Fixings | GXM 50 Mini Insert ( for K-Grip Mini ) |
| REN-520500 | PV Mounting | Flat Roof | Renusol Ballast set FS10-EW (Set) |
| REN-400256 | PV Mounting | Roof Anchor- Seam Clamp | Renusol Kalzip clamp for Standing Seam Type FS ( BTO ) |
| REN-400289 | PV Mounting | Roof Anchor- Seam Clamp | Renusol Seam Clamp A-Mini |
| REN-K-GRIP-M-50 | PV Mounting | Roof Anchor- Seam Clamp | Renusol Seam Clamp K-Grip Mini with GX 50 Mini insert |
| REN-K-GRIP-M-10 | PV Mounting | Roof Anchor- Seam Clamp | Renusol Seam Clamp K-Grip Mini with GX 10 Mini insert |