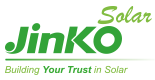 Products
Canadian Solar
JA Solar
Jinko
Solar World
LG
Panasonic
---
JinkoSolar, founded in 2006, is a global leader in the photovoltaic industry. Jinko are No.1 worldwide in the first quarter of 2016 in terms of shipment (1600MW), revenue (RMB 5.47 billion), gross margin (21.3%) and net profit (RMB 313.3 million), and employs more than 15,000 employees and operates sales offices in 23 countries.

JinkoSolar has created a vertically integrated value chain that have an annual capacity of around 3.5 GW in ingots and wafers, 3 GW of solar cells and 6 GW in photovoltaic modules (since 03/31/15). Jinko's entire production process is closely monitored with every cell and module subjected to at least 36 steps of the most stringent quality inspection procedures and comprehensive in-house testing in the most advanced UL certified testing lab.

Jinko offer a range of modules each equiped with exceptional reliability and high energy performance with low overall system cost. JinkoSolar also maintains one of the highest industrial standards for the design, performance, and workmanship of its solar products to secure a reliable energy supply of the PV system for well over 25 years
Jinko Optimised Panels?
Alongside it's usual panel range, JinkoSolar also offer a new kind of panel - optimized by Maxim.
The unique design pushes Maximum Power Point Tracking deep into the module; offering 100x more granular power tracking than string inverters and 3x more granular than panel optimizer technologies. The highly distributed MPPT architecture affords improved tolerance to shading, reduction in power degradation, and even enables denser system design on ideal unshaded rooftop and ground-mount systems.
Segen stock a whole range of Jinko panels for all applications whether its for private, commercial and public buildings, agricultural and industrial flat roofs or large-scale and ground-mounted arrays.
For more information on Jinko, you can view the manufacturer website here:
Listed below are all the products supplied by Segen for , please select any of the listed part codes in the first column to view full details of the product.
| | | | |
| --- | --- | --- | --- |
| JKM265PP-60 | PV Panel | Polycrystalline | Jinko 265W Eagle Poly Silver Frame |
| JKM270PP-60 | PV Panel | Polycrystalline | Jinko 270W Eagle Poly Silver Frame |
| JKM275PP-60 | PV Panel | Polycrystalline | Jinko 275W Eagle Poly Silver Frame |
| JKMS275M-60B-MX | PV Panel | Maxim Smart | Jinko 275W Mono Maxim Smart Module All Black |
| JKMS285M-60-MX | PV Panel | Maxim Smart | Jinko 285W Mono Maxim Smart Module Black Frame |
| JKMS290M-60B-MX | PV Panel | Maxim Smart | Jinko 290W Mono PERC Maxim Smart Module All Black |
| JKMS300M-60-MX | PV Panel | Maxim Smart | Jinko 300W Mono PERC Maxim Smart Module Black Frame |